There are many mistakes made when military spouses start a virtual assistant business. The biggest mistake is not taking the business seriously. Many people start a home business thinking of it only as hobby or extra income. But, virtual assistant businesses can earn an enormous amount of money. Today, one person can run a six figure company from the comfort of their home.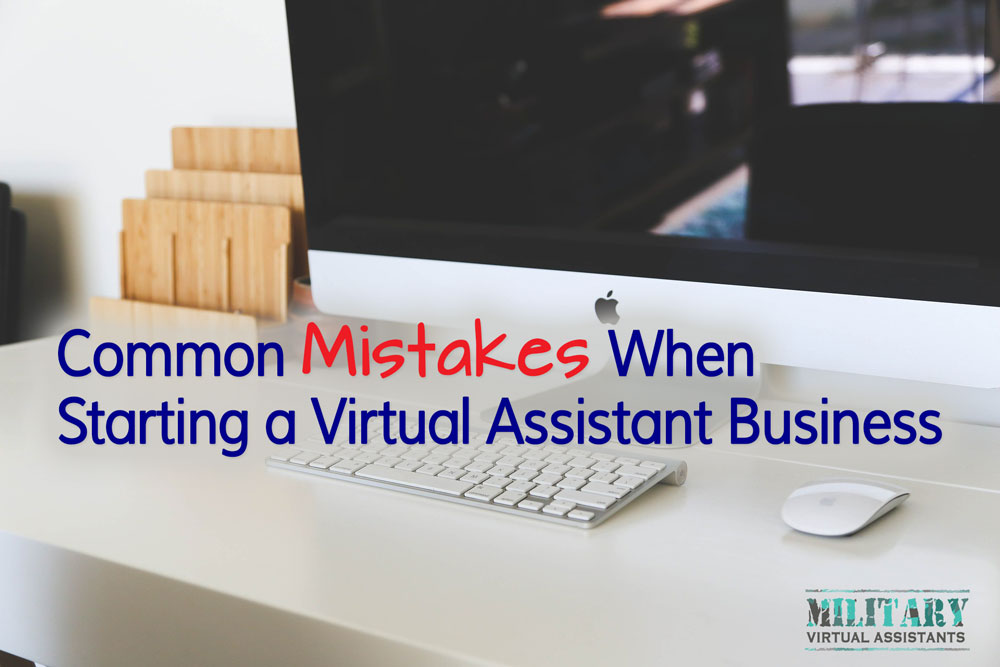 Here are some common mistakes when starting a Virtual Assistant Business
Not focusing on the audience
It's easy to make this mistake because when you are in business it feels like it is about you. But it isn't about it, it is about other people. The more you can place your focus on your target audience, the better you will be at attracting your audience.
Not doing the research
You may have what seems like a great idea but there may be no market for it. Do you research before you go all in. Sometimes there isn't enough of a market for a niche to make the sort of money you want to make.
Not staying focused
Once you decide on something, you want to stay laser focused on your VA business and building it before you start looking at other options. Some people call it 'shiny object syndrome'. To fight this syndrome, allow yourself to spend only a specific percentage of time on new ideas and the rest on the original. It can be easy to get distracted with so much going on in the military lifestyle. 
Learning without action
It is easy to get overwhelmed with all the 'how-to' videos, reports and courses you can take online to start a virtual assistant business. But remember that these things, while wonderful, aren't any good for you if you're not going to implement what they say. Put the things you learn into action before moving on and learning something new.
Not setting a realistic budget
Everything always costs more and takes more time than you think it will. You are not going to make money today. It takes time to make money, so ensure that you have the money to keep yourself afloat until your business is earning. In addition, don't overlook the bookkeeping aspect of your business. You can use an easy system like Wave Accounting (free) or Freshbooks (free for up to 3 clients)
Not marketing enough
So many virtual assistant business forget about marketing. You can't have a business without some form of promotion. You can use social media, ads, search engine optimization, networking and more to help promote your VA business. However you do it, you have to do it or you have no business.
Chasing perfection
No one is ever perfect. It's just not going to happen and it's not possible. So many VAs try to be perfect. They are afraid to show their work for fear of judgement. You have to get over that. Something is better than nothing, and online everything can be improved later.
These mistakes can end a Virtual Assistant business very quickly. If you avoid these mistake, you could have the next six figure Virtual Assistant business from the comfort of your home.