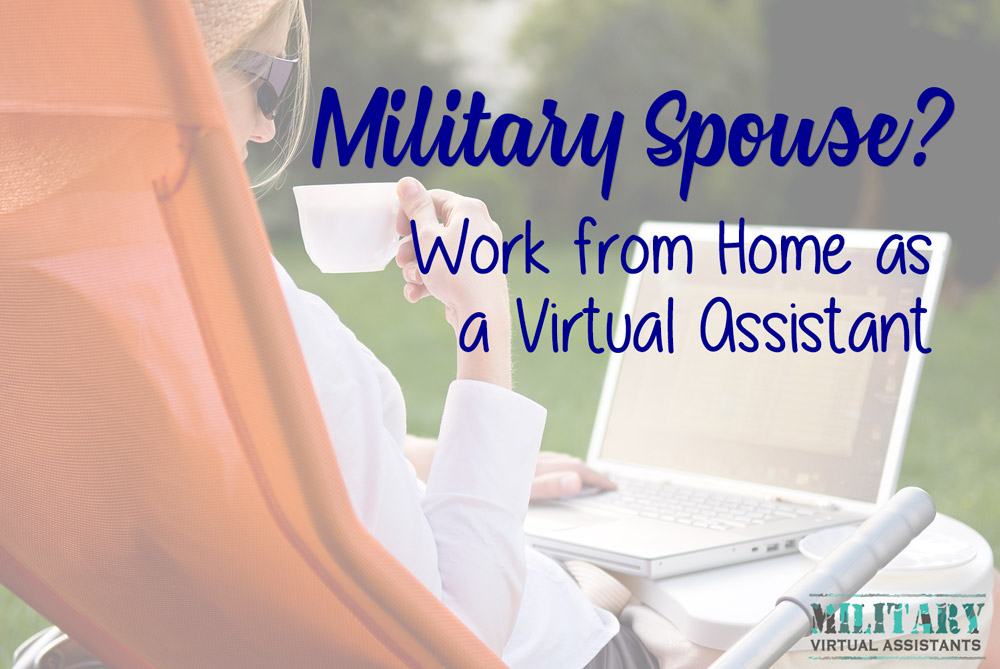 Virtual Assistance is perfect for any military spouse. You can take your business all over the world with you and will never have to stress about look for a new job. If your spouse has to go away somewhere for training, you can go too, just pack up your laptop and away you go. 🙂
Starting up your own business can seem like a daunting task. It's really not that scary of a thing and all you really need is a computer and a few skills. I'm asked quite often about how to get started in the Virtual Assistant Industry and I wanted to put together some resources for you to read over and to help you get started.
First thing, you should really go like my Facebook Page. I post tips for Virtual Assistants and business owners daily. Plus you'll get to see how I travel the world and run my successful business. 
Plus, sign up for my free downloads below to help you get started. Once you download them I'll send you a few emails with tips about starting up your own Virtual Assistant Business. 
Now that you've done that… You MUST join VAnetworking. It's free and been around for ages, they have over 28,000 members. 
Click here to join VAnetworking.
When you join you will be signed up to their free networking forum and also get access to a ton of other free resources. Here's the list of their freebies: 
ACCESS: The Virtual Assistant Networking Forum #VAforum
VIDEO: How to Become a VA Plus Top 10 Resources by Tawnya Sutherland
EBOOK: Kick Start Your VA Business
CHECKLIST: Virtual Assistant Start Up PLUS Module 2 of VAC: Why Get Started in Business
CHECKLIST:  200 Services a VA Can Offer Their Clients
VIDEO: Setting Your Price, Getting Paid & Making it Legal by Tawnya Sutherland
WORKSHEET: The Hourly Pricing FORMULA
CONTRACT: Independent Contractor Agreement (Word .doc)
GRAPHICS: Images for Social Media Marketing
EBOOK: Getting Started With Affiliate Marketing (& Video)
All these resources will help you get started. I recommend to first watch the free video: How to Become a VA Plus Top 10 Resources. Then move onto the ebook: Kick Start Your VA Business. 
Once you've finished those, ask any questions you have in their free forum. You will get all the answers from new and experienced Virtual Assistants. There's even a section for military spouses so we can network privately. Contact me to find out how to get added to that forum area. 
Once you go through all the resources I mentioned above you have to decide if you are a self-starter or someone who needs guidance.
If you are a self-starter then you'll probably dive right in and set up your own business without much help, especially if you have some background experience. But if you need some guidance then you'll probably want to invest in a system that helps you start up your own successful Virtual Assistant business. I recommend the Virtual Assistant Career System (VAC).
The VAC is a 30 day Virtual Assistant Business Start Up System. It's made for someone new to the industry or for someone who needs structure. The VAC is a fabulous program and gives you everything you need to get your business off the ground; including a website. Tawnya has been a leader in the Virtual Assistant industry since 2003 and knows everything there is to know about being a VA. I highly recommend taking a look at this program. If you have any questions feel free to reach out to me, or to Tawnya and let her know that Danielle sent you. You may think that $997 is a lot of money but it is not when you break down what you get in this system…
Virtual Assistant Start Up Training System from an industry leader (priceless, in my opinion)
1 Year membership to the VAinsiders Club ($333 value), plus a 50% lifetime discount to the club.
A website/blog for your Virtual Assistant Business with 1 year of hosting
4 reference ebooks
Lifetime access to the private VAC members only forum area
Business plan
Private coaching session with Tawnya
Well, I hope this helps you get started and also helps answer some of your questions. If you have any other questions, feel free to ask me. If you want to take a look at my Virtual Assistant Business website you can here.