As a military spouses we find ourselves alone quite a bit. Sometimes it's for a few days or months or even years. It's ok to feel lonely. Sometimes it happens, even more so if we are living far away from our family and friends.
We need to learn how to take control of our happiness so we can put a smile back on our face.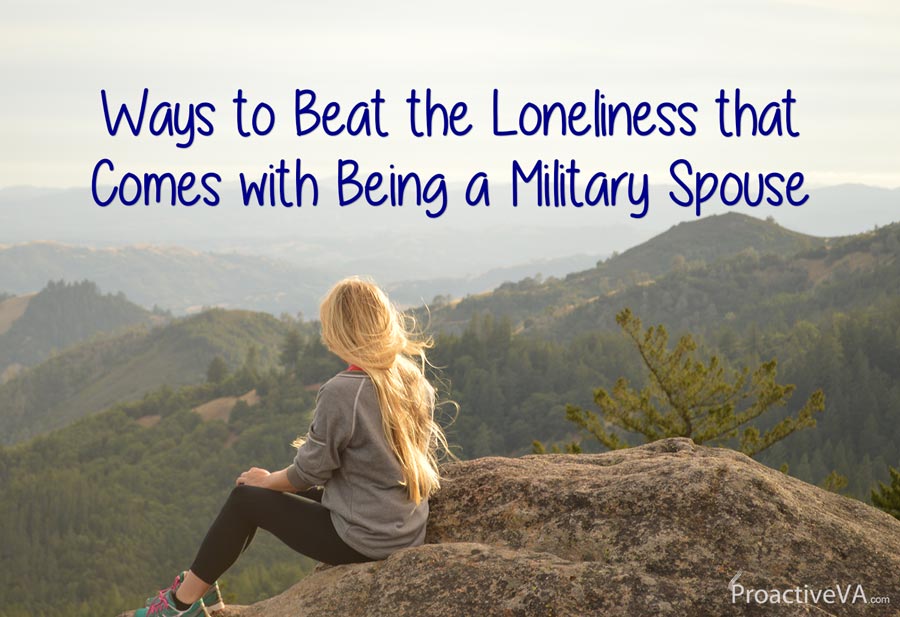 Here are some helpful strategies to beat military spouse loneliness
Avoid sitting around and fretting
Getting upset about it isn't going to help you, so why do it? If you're not actively looking for something to fill your time, loneliness will creep up on you.
Find a new hobby
If you've turned to your current hobbies and are still feeling lonely or bored, it's time to find something new and exciting. Explore a new hobby that you've always been meaning to try but haven't had the time to do.
Take a class
Taking a class is a good way to meet others who have the same interests as you. You'll get double the benefits – learn something new and meet new people.
Volunteer your time
When you are feeling lonely, helping others can be a win-win situation. With volunteer activities, you do something great for the world and get some healthy human interaction in the process.
Get a dog
If you have a dog you can take your dog on walks, to the park or to the dog beach. Please do your research before getting a dog. I've seen way too many people on spousal Facebook groups giving away their pets because the owners couldn't handle them with their military lifestyle.
Talk to strangers
Engage in some light chatter with strangers in public situations. For example, you can strike up a lively conversation while waiting in the grocery store line. Every person in that line is probably as bored as you are. Pass the time together and you might even start a new friendship
Call a friend
Look up a friend or family member that you haven't talk to in awhile and catch up with them. By the end of the conversation, a happy and nostalgic mood might have replaced the money one you were in before
Start a social group
You can start a social group around a topic that you enjoy. Maybe you enjoy walking with your baby everyday, start a walking group to connect with other Moms who enjoy it too.
Join the local base Facebook groups
Most bases have Facebook groups for spouses. Join them and create a post saying you are looking to meet new people. I'm sure you will find some new friends to fill your time.
Focus on your business
Take the extra time you have and invest it into your business. Maybe you've always wanted to create a training course. Now is the perfect time to do so. 
You'll find that with the right attitude and some action you won't have to sit at home with your loneliness any longer. Use these ideas to meet new friends and new experiences.