Using mobile apps can help you with your Virtual Assistant business and your day-to-day life. You can practically run your entire business from your phone or tablet. Apps can save you time and also help run your business while you are on the go. You can do just about anything with apps; manage social media, receive money, edit documents and even workout.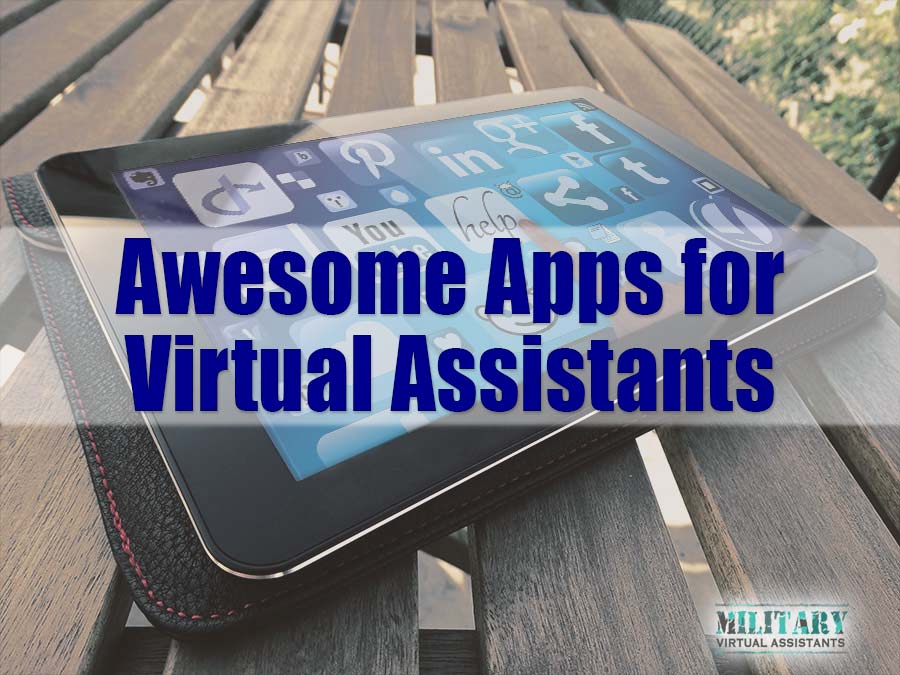 Here are 10 apps that I use regularly that you'll definitely want to try out if you haven't already. 
Dropbox
You need to be able to access your documents from anywhere and be able to easily share documents with clients. Dropbox is inexpensive (they have a free account) and easy to use. One way this app comes in handy for me is using it to manage Instagram accounts. I keep my clients' images in a Dropbox folder and I can pull them onto my phone to post. 
Hootsuite
Hootsuite is a social media marketing app that allows you to manage multiple social media accounts. You can schedule posts, engage with your audience and more. If you haven't signed up for Hootsuite yet, make sure you do. It can really help improve your social media marketing, and they have a free version. 
PayPal
We all need to get paid, you can use PayPal's app to accept payments from anywhere. You can also use your phone to pay for purchases, or get a card, so that everything you do passes through the secure PayPal system.
Evernote
Use Evernote to jot down notes on the go and clip anything from anywhere on the web. It's all in the cloud so you are able to access it from anywhere on any device. You can even share notes with clients. It's quite handy and I find myself using it all the time. 
Polaris Office
You can use the Polaris Office app to edit all documents in a single program and connect through the cloud to many different storage options like Dropbox and Google Drive. You can share documents with others and keep track of comments too. 
Genius Scan and Genius Fax
These two apps are from the same company, but two different apps. I don't own a scanner or a fax machine so these apps come in handy when I need them. With Genius Scan you can easily scan in anything using your phone's camera for free. You can turn it into a .JPEG or .PDF and export it to your camera roll, Dropbox, email or just about anywhere.
Ocassionally I need to send a fax out and with the Genius Fax app I fax documents for a small fee. You can even get a phone number so you can receive faxes too.
Wave
Accounting and bookkeeping are integral parts of any Virtual Assistant business and hard to keep up with if you're often on the move. But with Wave you can do your bookkeeping and accounting and receipt management from anywhere easily. 
My Minutes
If you have problems with managing your time in your VA business, you can use My Minutes to get reminders about how much time you're spending and where. Get motivated be seeing streaks of green that show you you're being productive. You can even use this for personal use as well. 
Asana
I use Asana to keep track of tasks I need to do in my business and also personal life. I love having the app so I can easily see what needs to be done that day. I can manage tasks, communicate with clients and more using Asana. if you use a different project management system, they probably have an app that you can use as well. I recommend downloading it to stay organized. 
SworkIt 
This is more of a personal app, but it's important to get yourself moving throughout the day. As VAs we sit around a lot and it's not good for our bodies. You will see it start to take a toll on you over the years unless you keep moving. That is why I love the app Sworkit. It's like having your own personal trainer at your fingertips. You can create customized workouts to fit your schedule and your goals. If you have a 5 minute break, turn on Sworkit and follow the trainer for 5 minutes. You don't need any equipment to do the workouts so you can do it right in your home office or on the go at a conference. It's a great app and I'm so glad I discovered it. Check it out, it's free, I put it on my IPad so I could see the workouts easily. 
Try out these apps to see if they help you get more organized in your Virtual Assistant business and even your personal life. If just one works for you, it will save you time and remove stress from your life. Using mobile apps to run your VA business from A to Z is very doable today. All you need is the right app and a good data plan, and you're in business.
Do you use any apps to help run your business?
Share them in the comments below.